Reading Time:
10
minutes
Google keep is a note making app from Google that has top known features like cross-platform syncs, mobile themed and reminders.
Google has never missed a chance to amaze users by adding some awesome feature that their product becomes a must have one.
Here's a list of top 16 features of Google keep which will make a Google Keep Power User
#1 Create bullet points
Checkboxes are a great inbuilt feature that Google keep has but when it comes for noting down non-to do list of sub-division of a to-do list google keep does not have any inbuilt feature.
However, Google has taken care of this from backend and lets you add bullet points by using an asterisk (*) hyphen (-) or a plus (+) symbol each time by entering a new line.
You can also use this feature to the indentation of your notes.
#2 Export notes to Google doc
Not all notes are simply to-do list or shopping list, sometimes you have to have a complex note scattered all over the keep note. Hence google allows the keep notes to export to Google doc and there perform the complex edits like text formatting, tables insertions, object insertions etc.
One thing to note here is that every time you export the existing keep note, the system creates a new Doc which is quite annoying to manage. So in case, you have a note to frequently export to google doc for editing, go for copy paste cycle till Google releases sync update between keep note and existing google doc.
Apart from this, you can export multiple keep notes too. Just select all the notes you want to back-up and click the menu icon to find Copy to Google Doc and bingo, you have successfully backed up all your notes in a single Google doc.
#3 Collaborate with your team
This feature brings your team on the same page. By adding a member to the keep note, you can create a constructive approach towards building the content around the idea with the whole team adding into same keep note.
This feature is helpful when your team is in a remote location and has to participate in building an idea or content to the idea. Just by adding the members, they'll receive a link with which they can add content to the note. This further syncs and creates a single note with everyone's input.
#4 Extract text from an image
This feature work on OCR functionality that scans for a text in an image and displays it.
In Google keep head over to a note containing an image. Tap on the menu and select "Grab Image Text" and you will see the text from the image added to the note.
However, this feature is not that accurate as "OneNote" from Microsoft but Google is surely working on it to improve this feature.
#5 Drag to reorder
Most of Google keep users are unaware of this simple feature that lets you arrange the notes exactly the way you want. Simple click/tap & hold and reorder it anywhere on Google keep the home page.
By default, Google keep places the latest notes on the top. But you can place any note over the default ones by pinning them to the top. Again, pinning feature pins the latest post on the top and you can reorder the pinned posts too.
#6 Find reminders in Google now
You must be aware of creating reminders in Google keep. Reminders are more or less like alarms with a text note on it. But Google has taken this alarm feature a mile ahead.
The reminders that you create on Google keep syncs with Google Now and you will receive notification on your PC and mobile when the reminder is ripe to notify.
#7 Recover the accidental deletes
In case you have deleted any note by mistake, do not panic it's safe in Trash and will be safe for the next 7 days. You can recover the deleted notes from 3-dot menu on the top in Google Keep
#8 Location based reminders
You already know that you can set reminders in Google Keep and trick #6 is also handy to you. But what if I tell you that you will not forget to buy the grocery from the shop near your home?
Yes, you can set location-based reminders too. So whenever you arrive at the location, Google Keep will notify you about the note you've set.
The bad news is, this feature works online only as you need to be connected to the internet to feed the location for a reminder.
#9 Doodling
Get creative with Google Keep's Doodle feature that lets you draw your thoughts and share it as an Image format.
You can start doodling your thoughts by tapping/clicking the "pen" icon at the bottom of the bottom bar.
# 10 Voice command to make a note
The Google search app is smarter now. With voice search taking a deep turn in our daily lives, Google has enabled this feature of voice commands to make a note in Google Keep too.
All you need to do say "Okay Google" and say "make a note" if you have multiple notes making app Google will ask you which one to use (Yes it's that smart) Choose Google keep and voice out your note. It's that simple!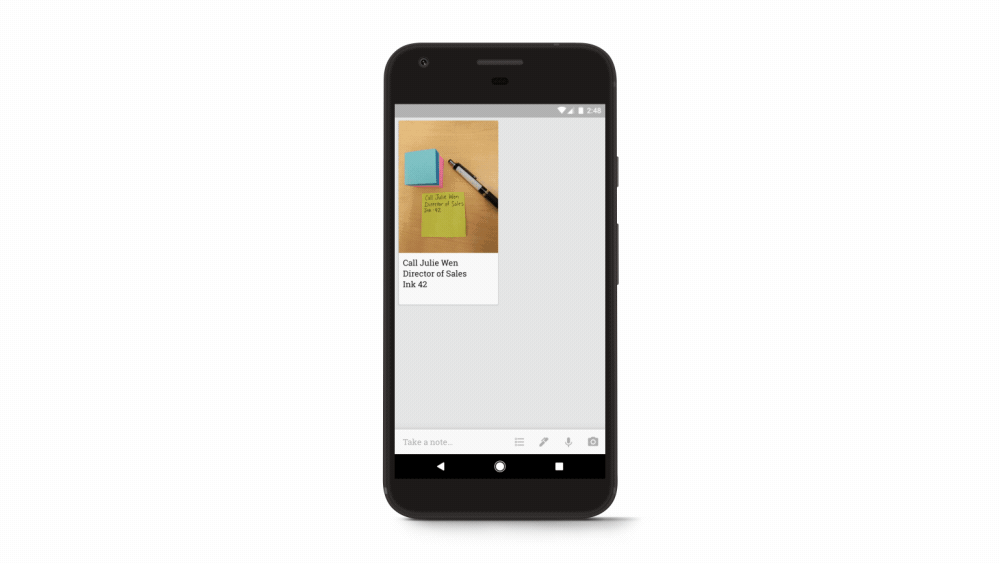 #13 Create drawings and even search handwritten notes
You can sketch images in Keep. Select the pen icon at the bottom of your mobile screen and a bunch of options will appear. Play with colors, shades and more. Once you're finished with your drawing, you can share it right away with coworkers. Or, you can come back to handwritten memos later by searching for what you wrote.
Speaking of search, you can also find images by searching for words contained within them. Say you snap a photo from a whiteboard and the image contains the word "Proposal." Just search Keep for "proposal" and your image will appear.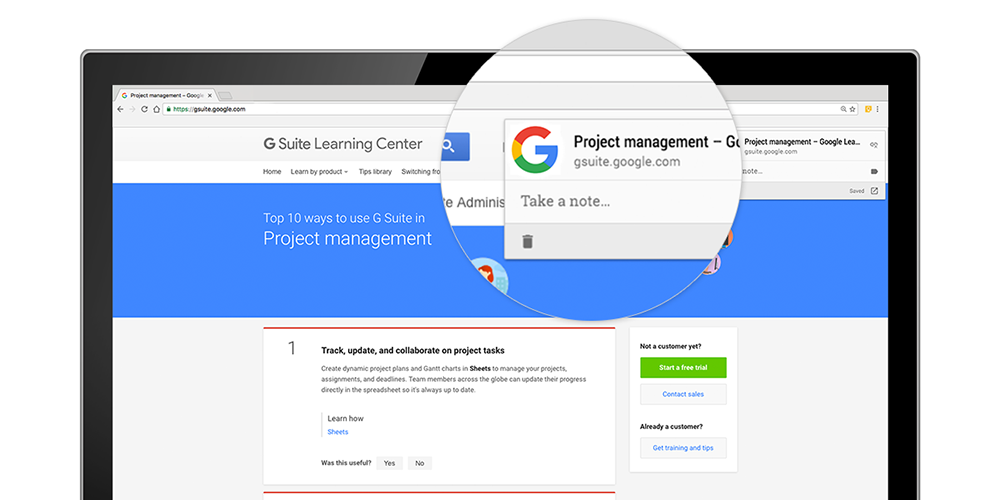 #14 Send notes from Keep to other apps you use
Some teams save content from other messaging or social media apps in Keep to reference later. Or, vice versa, you might use Keep to draft emails or social media posts on-the-go. Click on the three dots in the bottom right corner of your Keep app, select "send" and choose the app you want to share your note with.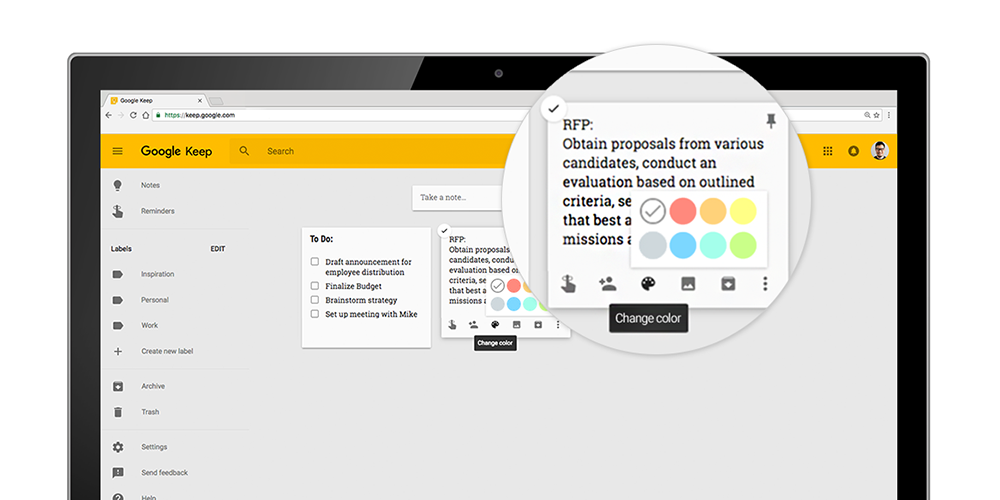 Now that you know tricks to use Google keep even more efficiently, which trick are you going to use the first? Which tricks were the ones you knew already? Did you have anything to add in this list? Give the responses here in the comment section below.
Share the content in your network and recommend it. Also, join my mailing list to get such awesome content right in your inbox or join the telegram channel & receive updates in your favorite messaging app.
More reads for you